At Painting America, we knows what it takes when it comes to door painting.
[fusion_builder_container hundred_percent="yes" overflow="visible"][fusion_builder_row][fusion_builder_column type="1_1″ background_position="left top" background_color="" border_size="" border_color="" border_style="solid" spacing="yes" background_image="" background_repeat="no-repeat" padding="" margin_top="0px" margin_bottom="0px" class="" id="" animation_type="" animation_speed="0.3″ animation_direction="left" hide_on_mobile="no" center_content="no" min_height="none"][fusion_lightbox]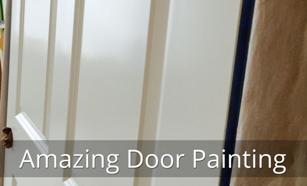 [/fusion_lightbox]This is a photo (click to enlarge) of a door that had previously been sprayed by a painter that left runs on it. Also, it had a very pitted and bumpy finish. Even after this lack of quality, the painter expected to get paid for his work!
Door Painting Takes Skill
Painting America was hired to repair 30 doors. We're no stranger when it comes to door painting. We knew exactly what was needed to get the job done.
First, the doors had to be sanded with 220 grit & 320 grit and then wet sanded with 400 grit. Then we applied one coat of primer and dry sanded again with 400 grit.
After that, we sprayed the first coat of paint. We then let it dry overnight. We followed that with a light sand with scotch brite.
We finished it up with a final coat sprayed on. And then…tuh-da!!!
It took 200 man hours to correct a mistake made by a guy that called himself a painter.
We Understand Door Painting
The lesson here is the customer used an unqualified painter that provided a low bid. It ended up costing the customer an extra $5000.00 to make the doors look like they are supposed to look.
With Painting America, we delivered flawless results. With over 34 years of painting experience, we'll provide the quality that you'd expect from a very knowledgeable, talented, quality-driven, master craftsman.
Painting America sets the bar high when it comes to producing beautiful finishes on doors, millwork, built-ins, mantels, and cabinets.
If you want it done right the first time, call Painting America. Call today at 425-488-1192 or Contact Us Here. 
*[/fusion_builder_column][/fusion_builder_row][/fusion_builder_container]