In this article, we'll talk about what a paint color consultation is and how introducing color on your walls will make all the difference to your soul.
Color plays a significant role in our everyday lives. Even what we choose to wear on a daily basis – because of how the color looks on us, and how it makes us feel, even while we walk the trails in the forest – it's the color that bring us serenity.
Wall color in our homes and work space, speaks the loudest to our souls.
"Mere color, unspoiled by meaning, and unallied with definitive form, can speak to the soul in a thousand different ways"

-Oscar Wilde
Hiring a qualified Color Consultant and Painting Professional will provide you with many years of experience and knowledge of color, how color reacts to light or absence of light (LRV-Light Reflectance Value), compatibility with existing elements, and design theme.
The Painting Professional has the advantage of applying thousands of colors in thousands of homes with all lighting variables and design goals.
At Painting America, Inc. we follow the basic rule, illustrated here:
60-30-10 decorating rule is a basic rule of interior design
For this rule, a selection of three different colors should be used in the following proportions: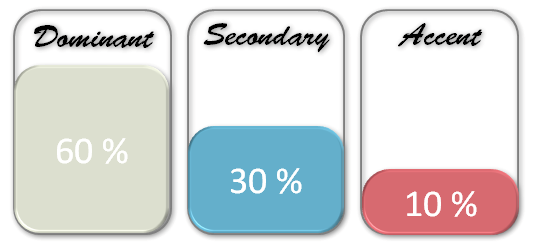 Dominant color
Rough 60 percent of the given space should be the dominant color. In the interior design terms, this color is for walls. Neutrals are the good choice for painting walls.
Secondary color
Next 30 percent should represent secondary color.
Accent color
The remaining 10 percent of the color scheme is for accent color. Accent color should be attractive. Warm vivid colors are good accents.
Paint Color Will Set The Mood
Color applied to the walls will set the tone or mood for the space. Each color will play a huge role in your life. Color can evoke a memory, or make us feel calm or energized, happy or sad.
Color speaks differently to people. We work with you to determine your personal palette. What colors do you like? What do you think of when you view a color?
The right color to compliment the furnishings can be selected from a paint fan deck, but the work does not stop here.
Paint Color in Different Lighting
Paint color needs to be experienced in the space that it will reside. Flooring, trim, cabinet and counter color plays a significant role in determining color choices.
The direction of the natural light and the amount or absence of natural light will change your best chosen color.
Color varies even in the same room. When it's in the shade it appears different from the same color which is located in light. The shaded areas of a room can dramatically change a color to a hue that is undesirable.
In this event, our color expert can read the color and the lighting effects, and can select similar colors with a slight tint of an additional hue, to correct the negative effects.
Light Affects Paint Color
Light Reflectance Value-LRV is a measurement that tells us how much light a color reflects and how much it absorbs when a light source illuminates it.
LRV runs on a scale from 0% to 100% (zero being the darkest blacks and 100% being the whitest whites).
Rooms with minimal or no natural light can be transformed with low percentage LRV ceiling and wall color. Along with properly adjusted artificial lighting, a previously dark cave can be illuminated, creating an inviting, comfortable space in your home.
Another very important element we must consider when selecting wall color, is light bulbs!
The fluorescent, LED, and tinted bulbs, blue, pink, yellow negatively impact wall color.
These bulbs illuminate their own color that changes how we see the wall color. Producing a very different color, and most often undesirable. These tints can change the visual feeling to cold, harsh, and uninviting.
It is widely known that the preferable bulbs to use in our homes, are the non-glaring Soft White, in 75 watt flood for ceiling cans and Soft White in 50, 75,100, 150 watt in bathrooms and lamps.
Watts are now known as Lumens. When purchasing your new light bulbs it is easy to get confused.
First, here's a quick break down to help out:
50 watts is now 510 lumens. (Great for outdoors and cozy relaxing light
75 watts is now 1050 lumens. (Great for ceiling cans, comfortable inviting)
100 watts is now 1280 lumens. (Great for reading lamps, fresh energizing)
150 watts is now 1790 lumens. (Perfect for lighting up a room or workspace)
Check the maximum sticker on each lamp and fixture, before purchasing and installing light bulbs. Never install a greater lumen than indicated because this can result in a fire.
Get a Color Consultation to Help Light/Color Balance
When you're selecting a paint color for your home, you need to be aware of Light Reflectance Value.
Naturally, a professional paint color consultant will be aware of this and help you choose the right colors.
Now, let's discuss the basic chemistry of paints and how that applies to getting the right color for your home.
Basic Paint Chemistry and Getting the Right Color
At Painting America, Inc. we provide our customers with information about the chemistry of paints.
We share why premium paints outperform low end paints, what makes today's matte finishes washable, and why two coats are required and when a third and sometimes fourth coat is needed.
For starters, this is because white base paints have higher levels of Titanium Dioxide, which is essentially the covering pigment.
In the case of making bright clean colors, a neutral or clear base (can of paint) is used, and then color pigment is added.
The tint/color pigment is at higher levels, due to the low level or absence of Titanium Dioxide. This is why bright colors, when applied to the substrate, appear transparent, thus requiring more than industry standard two coat application.
This stands true with the cleanest of whites, as well. The cleaner or brighter the white it is, the more it lacks the muddied colorants, umber or black to give it the boost it needs to provided total coverage in two coats.
A Paint Color Consultation Helps You Know the Differences in Paints
There are measurable differences in interior paints. Each paint company provides low grade, medium and premium performance paints.
Low-grade paints, typically used in new construction, provide two purposes.
The first is that it's low in cost. The second is that the paint is higher in solids and contains less vehicle (water & solvents).
This allows for clay-like coverage and hides sheetrock and texture imperfections. These ingredients are Aluminum silicates (clay) that has been heated to drive off water, Calcium Carbonate (chalk)- low cost, low hiding pigment, Talc– general-purpose extender and  Diatomaceous Silicates-limit sheen.
This chalk like, flat finish paint does not perform well in a busy home. There is zero washability and the color will have a dull appearance.
The middle grade to premium interior paints are worth the cost. These products are formulated to cover well, provide true depth of color and wash ability with a designer matte finish. No longer is it required to have a high sheen to achieve durable wash ability.
Once Color is Selected, it's Time for Interior Painting
Once the color work is complete and colors are chosen, it's time for the painters to apply their craft.
Wall preparation, premium paint, and correct application process with the specified tools is key to producing a flawless finish.
The walls are lightly sanded and the holes and cracks are filled and retextured where needed. Primer is applied to repaired areas and then two coats of your chosen color is applied, allowing for dry time between coats.
The trained painter with vast knowledge of paint, performance, and genuine skills in application, is the last and very important requirement to producing a uniform, flawless finish on your walls.
Painting America, Inc. has 33 years of color and painting experience.
Let us help you find the colors for your home that coordinate with your design theme, transform your space and bring meaning to your soul.
---
We work with each and every one of our clients on an individual basis to provide the best color solution through a paint color consultation. 
Contact us today at 425-488-1192 or Contact Us to get started today.
We look forward to the chance to work with you and bringing new color to your home!
**