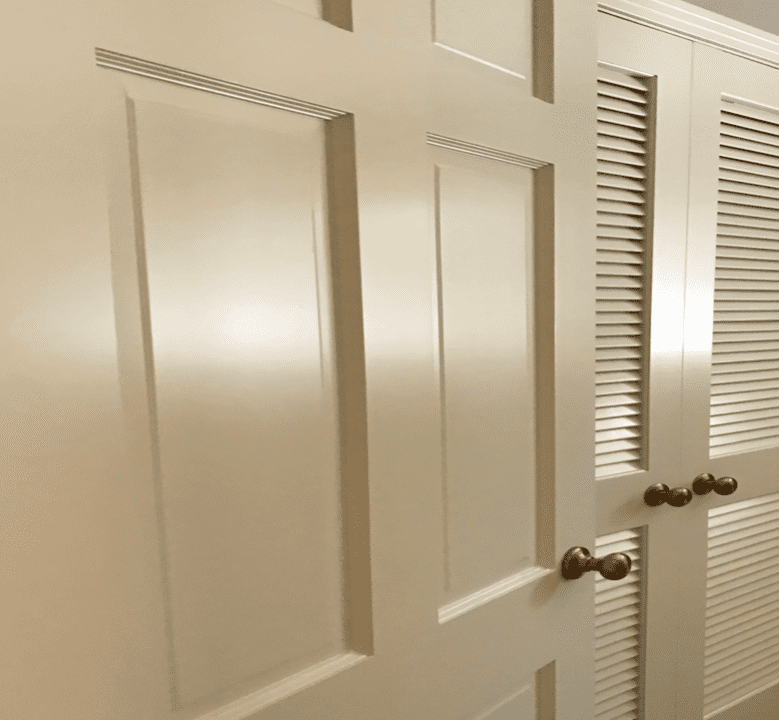 As a Kirkland Interior Painting Contractor, we know our stuff when in comes to interior painting and millwork. The doors in the photo above were painted with a brush!
To be specific, with Benjamin Moore Advance Waterborn Alkyd enamel in satin finish. By our very own 39 year master painter, Dave Rushing-Co-owner of Painting America, Inc.
From Benjamin Moore:
Advance offers the application and performance of traditional solvent-borne alkyd enamel in a waterborne formula that cleans up with soap and water. It is a 100% alkyd formula water-dispersible alkyd developed with proprietary new resins that keep VOCs low even after tinting. It flows and levels like a traditional alkyd with the extended open-time required to achieve high-end finishes.
The doors look sprayed, don't they!?
It takes a very skilled painter to manage the paint as he applies it to your doors, door jams, window sills, window trim, crown molding, base boards and wainscot.
There is an industry standard procedure to painting doors, provided by "Paint Quality Institute." A trained painter will possess this knowledge and will have developed the skills over his career.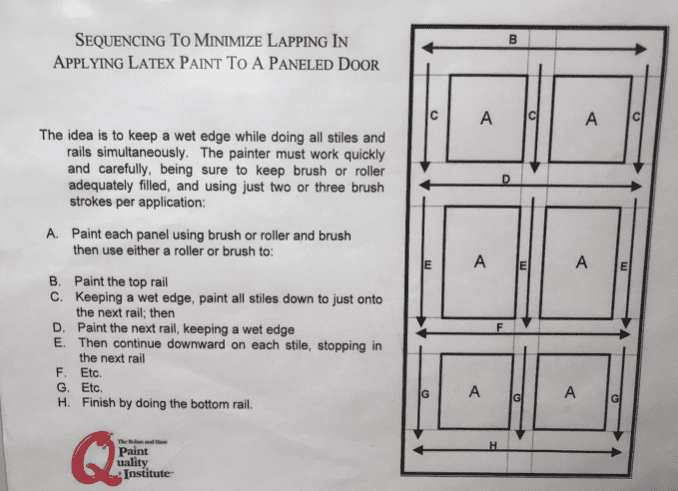 Many a DIY'er has attempted to paint the doors and millwork in their home-only to discover it is very difficult to achieve a beautiful finish-like the doors in the image above.
An unskilled painter can apply two much paint, or leave brush marks in every direction, to name just a few errors we have seen throughout the years.
This creates a situation where the labor cost to remove the paint, would cost more than the cost of the new door. Leaving you with a real mess on your hands, pun intended.
Choosing an Interior Painting Contractor
Hiring a knowledgeable, skilled painting contractor for your home, will save you time and money and provide a beautiful finish for your interior and exterior painting projects.
It takes several years to learn the skill set and possess the understanding of the ever changing chemistry of paints and performance. You can expect that a new painter that is trained by a highly skilled master, would learn good habits, solid brush and roller techniques and professionalism, would be ready to tackle projects on his own, after 5 years in training.
There are a lot of new situations that occur in the painting industry. A painter needs to stay up on the science behind not only the paint, but the reactions paint has to various materials, metal, rust, wood, concrete, and brick.
Here at Painting America Inc., co-owner Dave Rushing-Master Painter is in his 39th year and still has a huge passion for his craft. Dave lives & breaths the science of paint and application process. He has been recognized by leaders in the paint industry as one of the best in the country.
Our painters are trained by Dave and work alongside him, one house at a time, to assure that all of our attention is on your painting project and the quality of the interior and exterior home painting is not compromised. As your painting company we provide all the answers to your questions and even some you didn't have.
It is our intent to provide you with your options, the product performance facts and the application process required for your project, so that you can rest assured, we will deliver a beautiful finish to the interior and exterior of your home.
---
Interior Painting Contractor in Kirkland and Eastside
For more information, call us today at 425-488-1192 or contact us here